Are you looking for something fun and a bit different to do with a group of family members, friends or colleagues?
Heytesbury House B&B has a special offer running at the moment for its popular Murder Mystery nights in Cobden.
For $85 per person, groups of 8-12 people will experience a night of fun, laughter and food that is to die for. Better still; why not turn the experience into a retreat, with a $50 discount now available when you stay two nights at the historic B&B.
Local Wendy Bernhardt and a group of her friends booked in for a Murder Mystery Dinner recently and said the night was amazing.

"Kathryn and Andrew do an incredible job – from the moment you make the booking to the moment you leave their B&B, the whole experience is wonderful," she said.
"We got our memos prior to the night, with a synopsis of the Murder Mystery and a list of characters we got to choose from.
"Without giving too much away, there were some instructions for a couple of characters to sow a few seeds in the days leading up to the dinner."
Wendy said not everyone in the group was as outgoing as her, but the event didn't make anyone uncomfortable and people could get into character as much or as little as they were comfortable with.
"We all got dressed up as our characters and arrived to be welcomed by Kathryn and Andrew in full costume as well – they are amazing hosts," she said.
"There was a bit if a quiz in the front guest lounge which was all part of our Murder Mystery as well and then we moved into the dining room for dinner.
"The food was just beautiful and in between courses we had scripts and carried on working through the mystery to identify the murderer."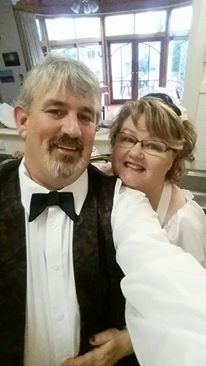 Wendy said if the group got off track, Kathryn and Andrew brought them back and made sure the mystery was seen through to the end and solved.
"They keep it running very well…I would recommend it as a night out to anyone. It's so much fun and it's something very different to do which my group of friends really enjoyed," she said.
"We have a dinner group called the Bloats, which is the collective noun for a group of hippos. It was a great experience and one we still talk about.
"Apart from dressing up, acting a bit silly and having fun with your character, you get a great dinner in a beautiful location.
"As the weather cools down, it gets harder to find different ways to enjoy dinner with friends. I'd highly recommend the Murder Mystery Dinner – especially now that you can enjoy the open fire – it's just beautiful and a perfect setting for it."
For further information or to make a group booking, please contact Kathryn on 03 5595 1800 or email enquiries@heytesburyhouse.com.au